Compassion Project currently collaborates with the San Diego Police Department. Compassion Project is a project within the City of San Diego with an emphasis in serving the neighborhood of Mid-City.
COMPASSION PROJECT MISSION STATEMENT
Compassion Project's mission is to provide emotional support to families devastated by the loss of a love one due to violence.
COMPASSION PROJECT VISION STATEMENT
Vision Statement, Compassion Project encourages families to rebuild their lives and foster community.
COMPASSION PROJECT GUIDING PRINCIPLES
Confront your own fears
Offer your physical presence
Meeting their needs
Fortify them with emotional support
Offer resources
Remember the family has needs
Try to turn things around
COMPASSION PROJECT HOURS OF OPERATION
Volunteer Services are provided Monday thru Sunday. Generally, a volunteer member will assist the San Diego Police department and victims of gang violence.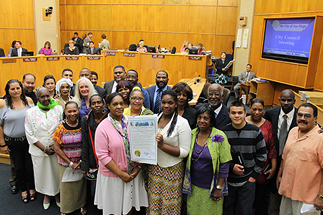 San Diego Compassion Project Day
May 8 , 2012
San Diego City Council President Young proclaimed May 8 as "San Diego Compassion Project Day" and recognized dozens of local volunteers for assisting and providing faith-based compassion to families of gang related homicide victims throughout the city.